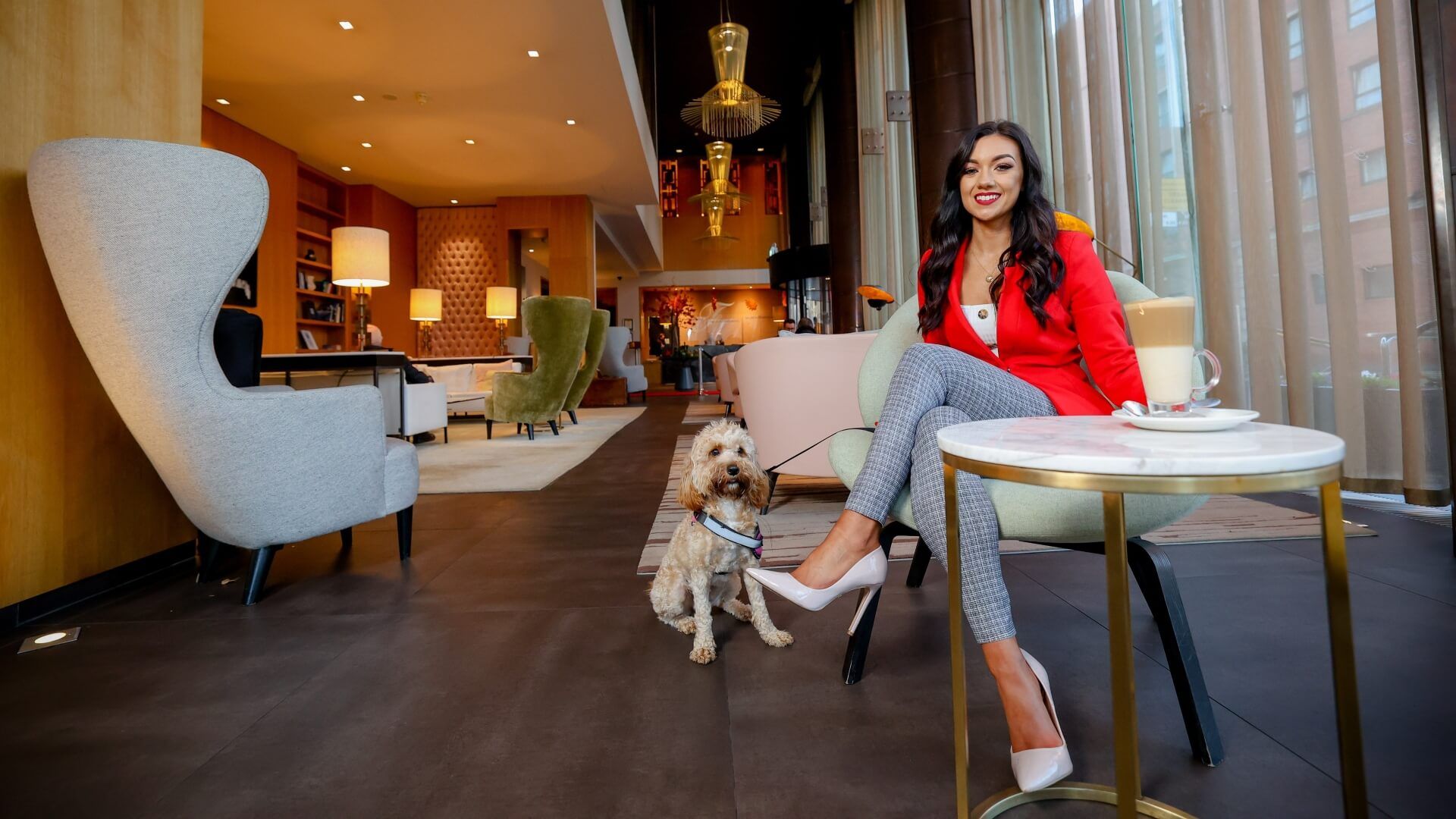 Our new dog friendly policy is sure to set tails wagging!
We have a selected number of dog-friendly bedrooms; but please note that we can only allow small dogs into the hotel and a maximum of one dog per room.
To book your dog to stay with us, please email reservations@fitzwilliamhotelbelfast.com or call our reservations team on 02890 442080. Dogs must be pre-booked and confirmed in advance with our reservations team.
Dogs will be charged at £40 per night and we ask for an additional £100 pre-authorisation on check in.
Please contact us at time of booking to ensure that we have space available.
Petiquette
To ensure your comfort and that of other guests, we kindly ask that you and your furry friend adhere to these dog-friendly terms and conditions:
Maximum of one dog per room only (Maximum 3 dogs in hotel per night)
£40 add on for one pet. This includes a water bowl, doggie welcome treat, small toy, and cleaning fee.
So that space does not become an issue, we can only welcome small to medium sized dogs, up to 12kg in weight
Cleaning or repair charges will apply for any damage caused to the room
We require all dogs to be house trained
Dogs are allowed to relax in the lobby; however, they are not permitted in The Bar or The Restaurant
Contact details and pet details must be provided to the reception team on check in, in case of emergency
A lonely dog might bark for attention or scratch at the door, and we do not want to disturb other guests so dogs must not be left unattended in room.
Owners must be present while any staff member of the hotel team is in the room with the dog
Please ensure all vaccinations are up-to-date as there may be other doggies around
All dogs must be kept on a leash in public areas and lobby
We welcome all well-behaved and sophisticated dogs-about-town! If a dog displays aggressive or disruptive behaviour, we reserve the right to ask you to leave the hotel. Unfortunately we cannot accept puppies (as much as we love them!)
The dog's owner is responsible for the care and cleaning up after pets.
Guide dogs and service dogs are permitted; however advance notice is required
Do you provide any dog food?
We have a small selection of biscuit snacks available upon request. We ask that you bring your pet's favourite food along with you so that they feel at home. We can also direct you to local pet stores.
Is the dog allowed in the bed?
We kindly ask that you bring your dog's usual bed with you.
Where can I bring my dog in Belfast? What dog-friendly places are there in Belfast?
Check out Visit Belfast – Dog Friendly
Our Top Tips on bringing your dog to stay at The Fitzwilliam:
Upon arrival at the hotel, you'll be ready to relax and unwind – here are some great tips for helping your dog to settle in.
We want your dog to feel comfortable and 'at home', so please bring any comforters or blankets that they like.
Walk your dog on arrival, as this will quell any restlessness they may feel.
A chewy toy may distract them and help them not to chew furniture!
Please stay close to your dog and ensure they feel safe and comfortable.
Sign up to our mailing list
Sign up to our mailing list and be the first to hear about special offers, new dining experiences and exclusive promotions from The Fitzwilliam Hotel.